LCA (ligamentum cruciatum anterius), čiže predný skrížený (tiež krížny) väz, zabezpečuje kolenu predo-vnútornú stabilitu. Po jeho poškodení je preto koleno nestabilné a má tendenciu podvrtnúť sa. Jeho roztrhnutie/natrhnutie je najčastejším poranením kolena, a vzniká najmä pri rotačnom pohybe. Predkolenie ostane fixované, zatiaľ čo sa stehno spolu so zvyškom tela vytočí iným smerom. To vysvetľuje, prečo sa moje spoluhráčky čudovali, že sa váľam po zemi, aj keď sa ma nikto ani nedotkol. Viac o danej príhode ale tu.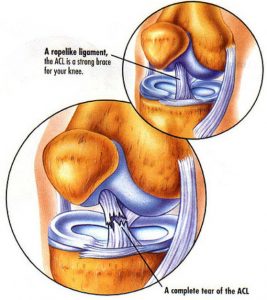 Po stranách môžeme vidieť väzy, ktoré sa starajú o stabilitu kolena smerom do strán. Smerom dozadu a dopredu koleno stabilizujú väzy, ktoré sa nachádzajú v jeho strede – zadný skrížený väz zabezpečuje, aby sa predkolenie neposunulo voči stehnu veľmi dozadu. Predný skrížený sa stará, aby nedošlo k vykĺbeniu kolena smerom dopredu. Keďže tieto dva väzy sa križujú, nazývame ich skrížené, alebo krížne. Vďaka tomu je zabezpečená rotačná stabilita kolena.
Roztrhnutie predného skríženého väzu sa najčastejšie prihodí pri futbale, lyžovaní, basketbale, floorbale, hádzanej, ale aj pri páde z výšky na jednu nohu. Čo je pri kompletne pretrhnutom väze najnepríjemnejšie, je fakt, že sa sám nikdy nezhojí. Zdrvujúce. Najmä pre človeka, ktorý je čerstvo po úraze a nechce si to pripustiť. Vtedy si ochotný vyskúšať akupunktúru, homeopatiká, savo, liečivé kryštály na hrudi, masť z bobra, potierať sa panenským močom, prestúpiť na novú vieru, predávkovať sa kolagénom. Nezhojí sa. Maximálne ti prirastie k zadnému skríženému.
To však neznamená, že každý pretrhnutý ACL treba operovať. Pokiaľ sú stehenné svaly dostatočne silné, a iné štruktúry okrem tohto väzu neboli poškodené, nemusí to človeku spôsobovať problémy. Najmä ak k jeho životného štýlu nepatria kontaktné športy. Ak sa však pri úraze poškodili aj iné väzy, ktoré sa operovať nedajú, potreba plastiky ACL sa zvyšuje.
Všeobecne sa udáva, že zo všetkých roztrhnutých predných skrížených väzov je tretina pacientov bez ťažkostí. Ďalšia tretina pacientov má ťažkosti len pri záťaži a športe a posledná tretina ich má aj v bežnom živote. Či už sa rozhodneš riešiť situáciu operáciou, alebo konzervatívnou liečbou, obe rozhodnutia nesú určité riziko. Toto rozhodnutie je len a len na tebe. Jedno však platí stále – je potrebné podniknúť určité kroky, aby si predišiel ešte rozsiahlejšiemu poškodeniu kolena.
P.S. Ak by si niekedy niekto dovolil spochybniť vaše nesmierne utrpenie, u mňa zvyklo zabrať toto video.
Použité zdroje:
Roztrhnutie predného skríženého väzu. Dostupné na: <http://www.ortopediainak.sk/sk/roztrhnutie-predneho-skrizeneho-vazu>
ACL reconstruction. Dostupné na: <http://www.hrorthopaedics.co.uk/patient-information/knee-procedures/acl-reconstruction>